Sound! Why can we hear it?
Our Displays
Guided Reading
Monday 25th January
Today we were Iggy Inference and thought about how Jared would react to finding the Boggart's house in the rubbish bags. We spoke about freeze frames and decided on a checklist of what our frames should consist of; show a character's thoughts and feelings, use facial expressions, use body language and think about levels. Take a look at some of our freeze frames!
We have practiced our Rex Retriever skills by looking at true or false statements.
Some of us practiced our dictionary skills and found the definitions of words that were unfamiliar to us.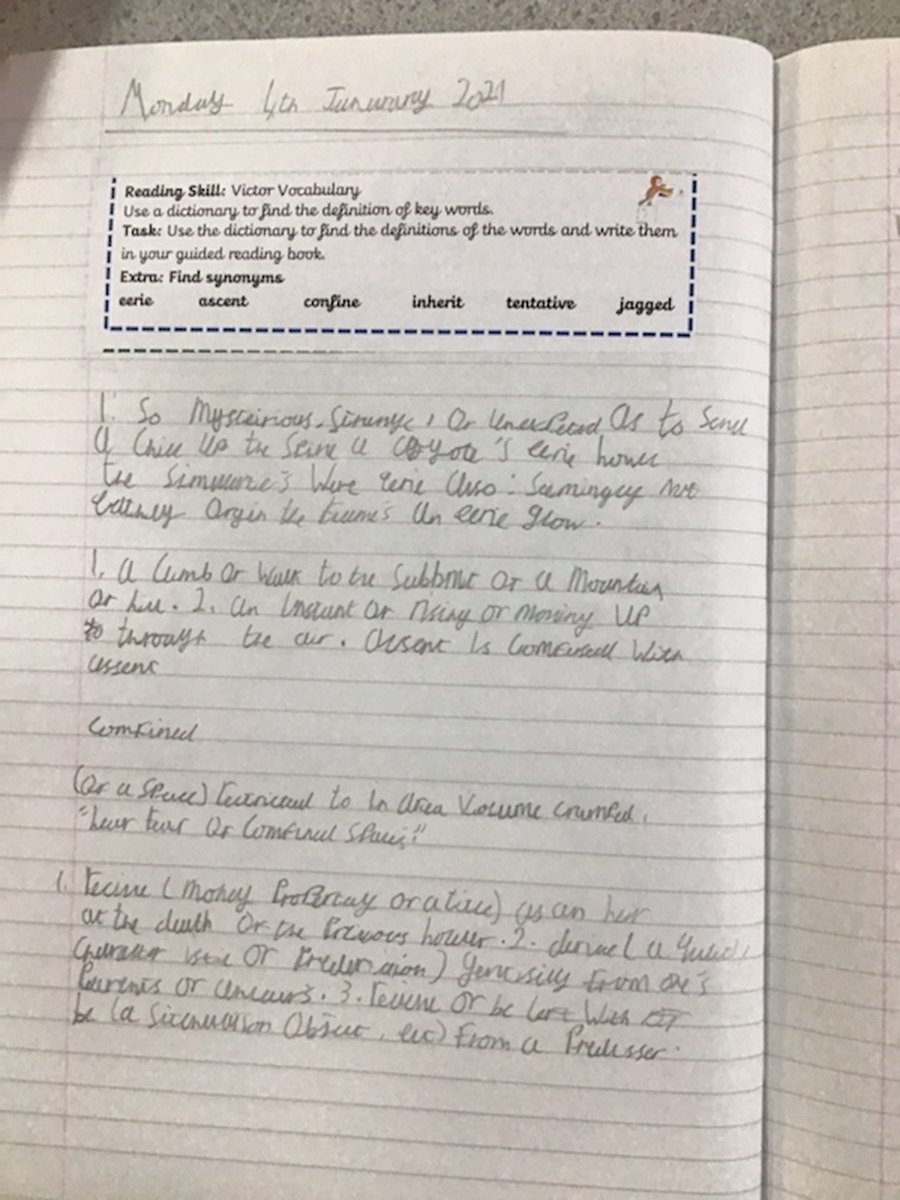 In computing we have been looking at how to create music on Purple Mash. We used the programs 2sequence and Busy Beats. Our key vocabulary was 'tempo', 'melody' and 'pitch'.
Design and Technology
Our design and technology lessons this half term were linked to our music sessions. We were tasked with researching, planning and designing and then making a musical instrument.
Before we made it we came up with some success criteria.
It had to be appealing to our target audience.

It must make more than one sound.

It has to be appropriately sized for our target audience.
Take a look at some of our designs!
Our finished results. We also shared our instruments with everyone during a Google Classroom. We were very impressed with everybody's effort!
In English our writing has been based on the mischievous creature called The Boggart! We have explored his appearance and personality during Guided Reading and English sessions to write some amazing character descriptions. Towards the end of the half term we also began to write some instructions of how to catch the pesky creature!
Working From Home
Whilst we were very busy at home doing Zooms, Google Meets and work packs, we also had lots of fun! Some of us practiced our cooking and baking skills, others helped mum and dad with house jobs and lots of us had the time of our lives in the snow!
Here are pictures of us practicing our other skills.
Here are pictures of us playing in the snow!
Spanish
We have loved our Spanish live lessons with Mrs Welsh and Mrs Hartley. At the start of every lesson we sing a Spanish song like the one below. This half term we have been reminding ourselves of Spanish greetings and learning about Spain. Click on the pop quiz picture to listen to one of our songs!
Science
In Science this half term we have been looking at how sound is made and how it travels.
To test how far sound could travel we made some plastic cup telephones. We tried different lengths of string and were surprised that the sound waves travelled all the way across the hall, vibrating along the string into our ears.
The children really impressed us with their scientific vocabulary. "It's the vibrations!" Oscar told us when he could hear his friend's voice from the other side of the hall.
The children explored pitch and drew comparisons between objects.
In our Maths we have concentrated on multiplication and division. We have began to use written methods using place value counters. Take a look at some of our work below.
This half term we also covered measures in Maths. We learned how many mm are in a cm and how many cm are in a m. We used this information to convert between measurements to answer worded problems. Another area we looked at was using appropriate measurements. It was decided that measuring Miss Green's height using mm wasn't a good idea - we used a metre stick instead!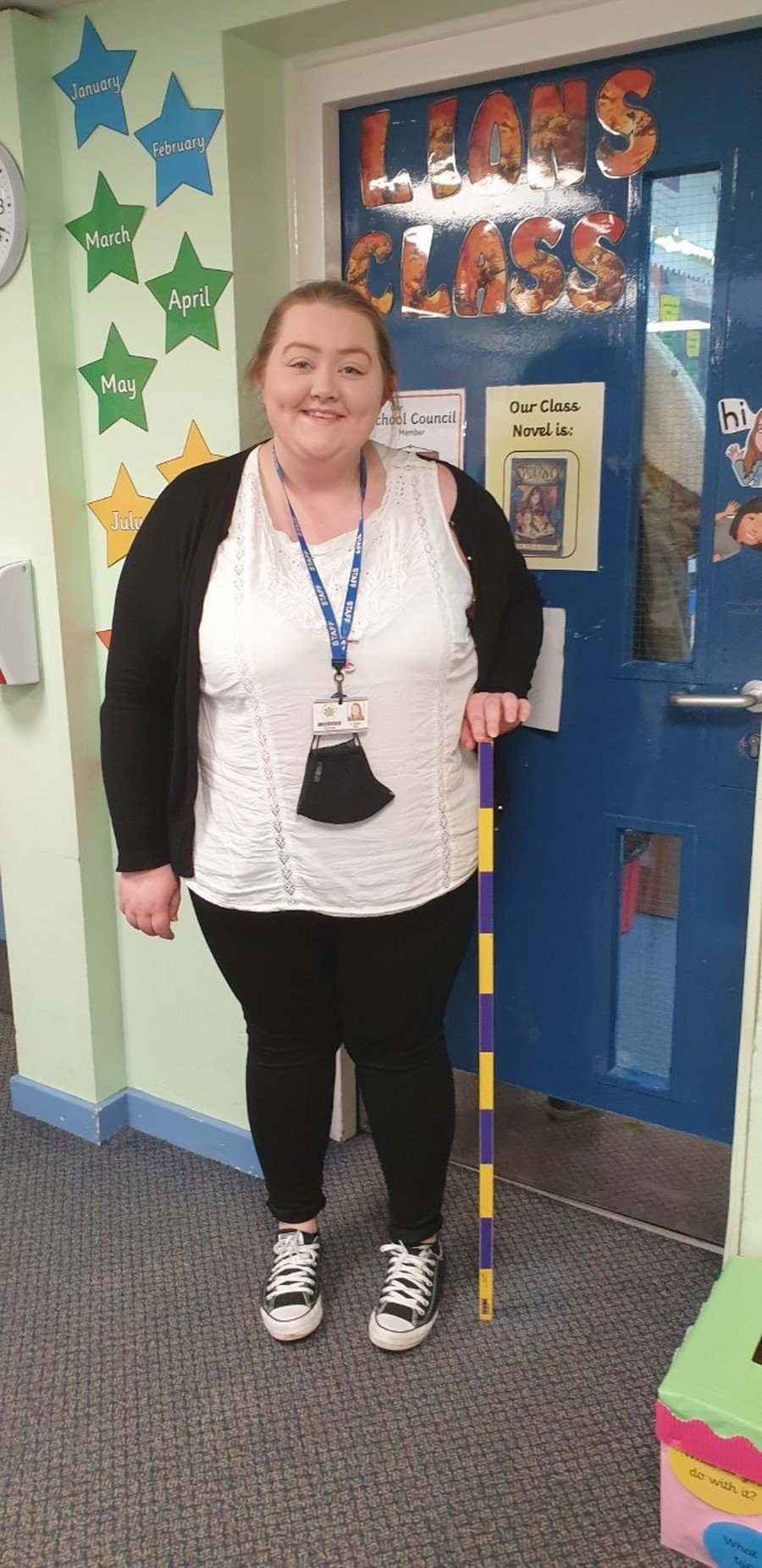 This is some of the work we have done in school.
We had lots of children joining us on Google Classroom. Here is some of their learning at home.
Isaac made a snowman and measured him.
Freddie used Lego and then measured his creation too!