How do I keep myself healthy?
Our Launch- 15.02.21
Our new topic this half term is Healthy Eating. As part of out launch the children in school and at home took part in food tasting and doing a Joe Wicks workout. The children got to try a variety of fruits such as passion fruit, coconut, pomegranate, mango, avocado and pineapple.
The children have really enjoyed using our outdoor area. We have been making different cars, ships and travelling all around the world. Also, the children have enjoyed lots of water play and chalking their fraction pizza onto the floor.
Leilah- "Half of my pizza is cheese and half is mushroom"
This term we have had a variety of independent tasks for the children to complete during their provision/free time when they have completed their work.
English- Draw and describe your gingerbread house using adjectives.
Maths- Roll the shape dice and see what shape it lands on. Say that shape to your parnter and then place them on part of your gingerbread man e.g. his eyes.
Creative- Make your own gingerbread man using playdough
Finger Gym-We looked at recreating the story using the characters from the book Keep Running Gingerbread Man. The children had to thread the characters on the string in the correct order that they helped.
English- WB- 18.02.21
In English this week our class text has been based on Keep Running Gingerbread. The children have taken part in a variety of tasks linked to this text such as: retelling the story, looking at key language, features of fairytales , creating freeze frames linked to the text and story mapping the story.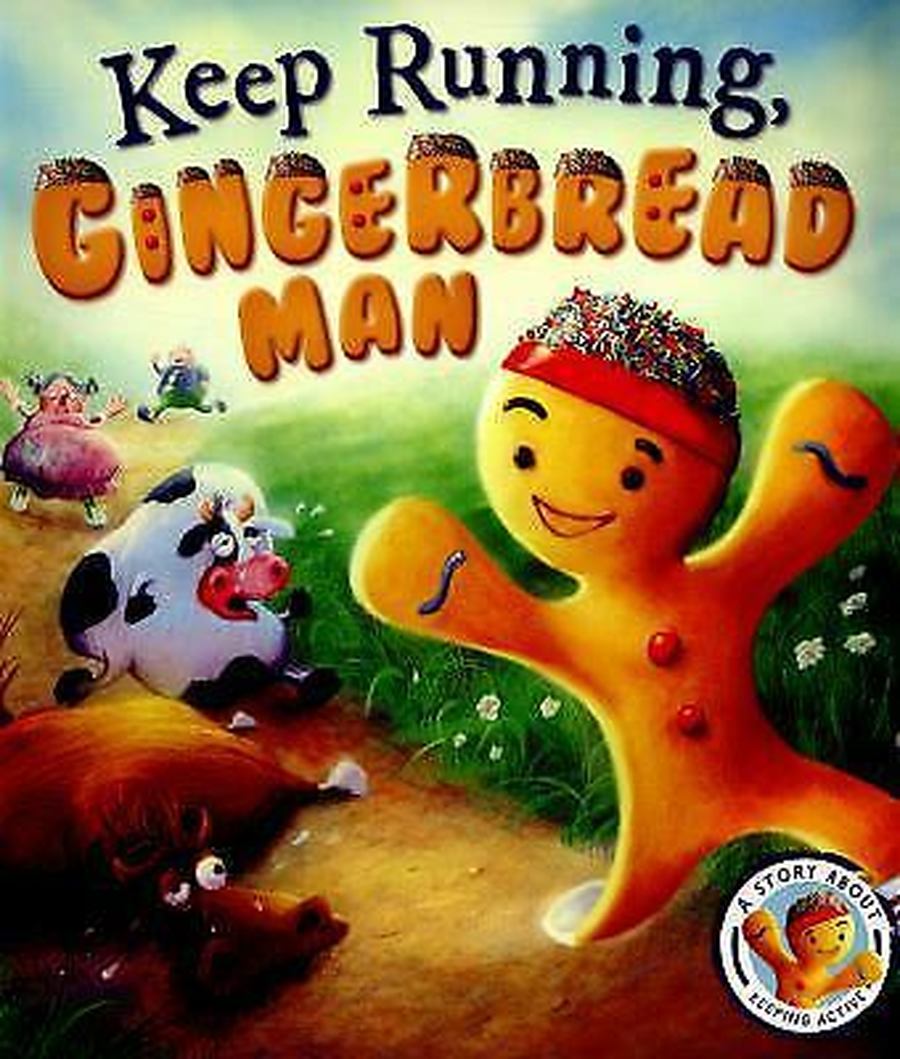 Art- Giuseppe Arcimboldo
15.02.21 16.02.21. 18.02.21
In Art this week the children have looked at the work of Giuseppe Arcimboldo and how he used fruit to create portraits. First, we looked at how to sketch using different line and form. Next, we looked at the different fruits and vegetables and what would be appropriate for each of the features. Finally, we sketched our own fruit portraits.
" I used the banana for the mouth as it looks like a big smile"
Isobel
Our Topic Launch
08.03.21
Arsia- "I like the pomegranate. It is really sweet"
On our return to school , the children enjoyed tasting a variety of fruits and doing lots of excersize with Joe Wicks. By the end of it we were very tired and had burnt off lots of energy!
Science Week- Our Inventions!
08.03.21 09.03.21
As part of Science week, the task was to create an invention.
On Monday 08.03.21 we looked at inventions from the past and how they had been created. We talked about the fact that inventions are created by a problem usually. After that, the children thought of 8 ideas as a table.
09.03.21
The children looked at designing their idea and using annotated sketches to label it.
Religious Education
17.03.21
The children were asked to think about rules that we have and follow in school. They were asked to act our different scenarios of what would happen when we don't follow the rules.
24.03.21
The children were asked to think about how we make good choices. They then looked at the ten commandments and discussed the importance of these. The children looked at ordering what they felt was the least important to the most important. The children then took part in some drama around this task.
Fact Files
22.03.21 23.03.21 24.03.21 25.03.21
29.03.21 30.03.21
This week in English we have looked at what a fact file is and the features. We have labelled these and spoken about why these are important. We then looked at gathering information about Mary Seacole and Florence Nightingale and recorded this information ready for our own fact files.
Chicks
Over the last few weeks we have been lucky enough to look after the chicks in our nurture room and watch them hatch. The children have enjoyed watching the grow and handle them carefully.
PSHE
29.03.21 30.03.21
Over the course of this week we have looked at different medicines and what is safe to go in our bodies. The children looked carefully at each individual picture and discussed if it was a sensible thing to put in our bodies or not.
Arsia- "You should put toothpaste in your bodies"
Sophie - " Cough sweets can be eaten but only some not all"
Thomas- " Alcohol can go in your body but not lots"
" We had to think about different traditional tales, read the extract from the book and then decide if it was from Goldilocks, Snow White or The Three Little Pigs" Cooper
In Music this week, the children have been using musical instruments and their bodies to perform a piece of music to the song ' Come the the party'.
Our 3D Shape Hunt
08.03.21
In class this week, we have been looking at 3D shapes. We thought it would be good to explore the school grounds and see what 3D shapes we could find. The children were very good at explaining why it was a particular shape.
Lewis C- "I liked looking for the 3D shapes. I found a cylinder"
We looked at 3D shapes and their properties. The children used the hoops to sort shapes according to these properties e.g. less than three faces more than 3 faces.
Our PSHE
08.03.21 09.03.21 10.03.21
Over this week we looked at a variety of different things. Such as: why we are happy, how we can spread happiness, we looked at different emotions and how everyone will feel different at different times and that is okay.
Internet Safety - ICT
15.03.21- 16.03.21
Today in our ICT we looked at internet safety. First we learnt about what is safe and what is unsafe to do whilst using a computer. Then, we created a poster to show what we had learnt.
Archie- " You musn't give people your personal information"
Dakota- " You must ask a grown up if you are unsure about a message when it comes up"
Census Day!
18.03.21
AM- We looked at what a census was and why it is so imporant. We then had a think about what data we could collect. In Meerkats, we looked at what our favourite sweet was.First we collected the data and created a tally chart. Next, we used this information and put it on our charts.
PM- The children learnt about time capsules and we made our own one. The children either drew 4 pictures or wrote a letter to show what their favourite toy was, their favourite book, favourite lesson and least favorite lesson was. We then put this in the timecapsule. We had lots of different conversations about what we like now and what children may like in the future.
Olivia- " The favourite sweet was skittes"
Oliver P- "The least favourite sweet was lollies"
Design and Technology
22.03.21 23.03.21 24.03.21
1) Designing our fruit kebabs
2) Making our kebabs
3) Evaluating our kebabs.
Alexia- " My kebab has strawberry, orange , grape and banana"
Olivia - " The hardest part was putting my fruit on the skewer"
Angelo- " I love the strawberry"
For world book day the children could come to school as any character they wanted as long as it was from a book. We took part in a variety of activities such as : reading with Mrs Green, freeze frame drama , a creative task where the children made lots of new exciting book covers and we went on a book hunt.
Virtual- The Tunnel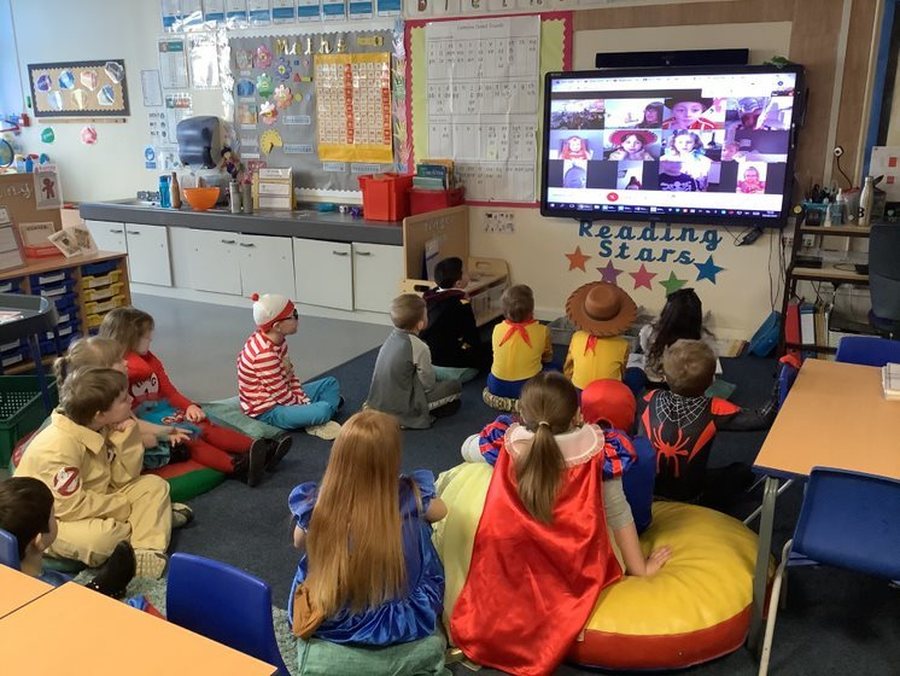 Oliver- "I came as a ghost buster"
Lucy-" I am the rainbow fish and it is one of my favourite books"
English- Freeze Frame Drama
10.03.21
Whilst looking at the book Eat Your Greens Goldilocks, the children have enjoyed acting out some of the story using actions and key story language. They have also enjoyed freeze framing certain parts and showing emotions. I think they enjoyed getting into baby bears bed and going to sleep!
Sophie- " The best bit was when baby bear broke the chair and we all had to fall on the floor"
15.03.21
Today in our Maths we looked at 1/2 and 1/4. We talked about what this meant and how many equal parts we would have. We also talked about the denominator and numerator. Some of the children had fruit and showed the fraction by cutting them, some children had paper and others made a pizza to show either 1/2 or 1/4.
Finding 1/2 and 1/4 of amounts
22.03.21 23.03.21
The children were given a number and asked to count out that many cones. We then thought about splitting these in half and into quarters. We looked at the denominator and knew how many groups we were splitting it into.
Shaquille- "Half of 20 is 10"